I first saw
Tilton Fenwick
featured in Trad Home/Lonny when they were featured as Top 20 new designers a few months ago. Here are some great inspiring images from the portfolio of these young designers, Anne Maxell Foster and Suysel dePedro Cunningham. Interesting fact, their company is named after each of their freshman dorms and has nothing to do with their names. My freshman year dorm name was Bates, not a fun ring to it.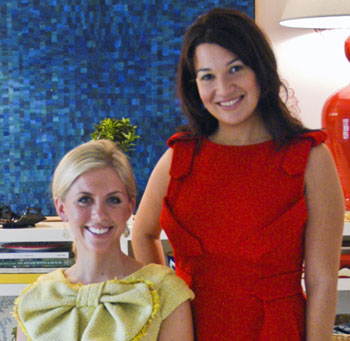 Cute and stylish designers Anne Maxwell Foster and Suysel dePedro Cuningham
Rustic living area with ikat chairs, antler mirror, deer head, stone fireplace and ironic twist of the turquoise garden stool.
Light blue floral wallpaper with orange velvet chaise
Side table styling complete with the cute little stuffed owl, and a small geode holding down the cocktail napkins.
Red & White Peacock inspired bedroom in which they used their company logo for this custom wallpaper.
Love the nail head trim on the wallpaper and are those yellow magazines, National Geographics?
Love this neatly decorated goodies bar which would be perfect for man cave, guest bedroom or vacation house.
Pagoda lanterns